Doctors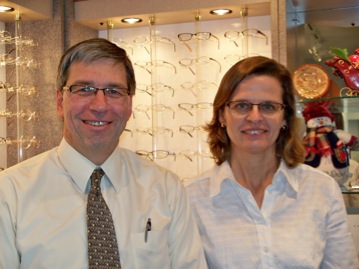 Doctors John and Lori Smith
are a husband and wife optometry team who provide comprehensive vision care for the entire family. The doctors met at the Pennsylvania College of Optometry (PCO) of Salus University in Philadelphia, PA, where they received their Doctor of Optometry degrees. Both doctors are members of the
American Optometric Association
, the
Pennsylvania Optometric Association
, and the Berks County Optometric Association.
John R. Smith, O.D., M.S.
graduated from the State University of New York at Albany with a B.S. in Biology. He also received a Masters degree in Low Vision Rehabilitation at PCO. His specialties include bifocal contact lenses, orthokeratology, laser refractive surgery follow-up care, low vision, and medical management of glaucoma. He is a member of the National Glaucoma Society.

Lori J. Smith, O.D.,
graduated from Penn State University with a B.S. in Biology. At PCO, she received additional training in pediatrics and vision therapy. She is a member of the College of Vision Development (COVD) and specializes in learning-related vision problems and vision problems resulting from concussions or brain trauma.
Dr. John and Dr. Lori make their home in the Hamburg area. They enjoy supporting their daughter and two sons in school and community activities. Dr. John is past-president of the Hamburg Rotary Club and the Berks County Optometric Society. He is also a board member of the Hamburg Our Town Foundation. He and Dr. Lori are active members of Zion's Lutheran Church.