Vision Development
The best start you can give your child's vision is to enroll him or her in our InfantSee® program at age 6 months to 1 year of age. The
InfantSee® program
provides a comprehensive eye exam
at no cost to all infants.
Following this important examination where the doctors rule out any eye disease or problem that could affect the child's vision,
children should receive comprehensive eye exams at ages 3, 5, and every 2 years thereafter.
Children's eyes can change quickly as they grow. It is important for the child's vision to be checked at near so that focusing difficulties become diagnosed and solutions can be proposed. Vision screenings at school or the pediatrician's, while important, in no way substitute for comprehensive eye exams.
Vision actually develops best when young children are exposed to a variety of large and fine motor activities. (With minimal time spent on TV, computer, hand held electronic games or phones!)

As a Developmental Optometrist, Dr. Lori Smith encourages young children to experience a lot of movement activities involving eyes, hands and feet.

Newborns and infants do best with large, high contrast black/white toys such as those described at this website:
www.geniusbabies.com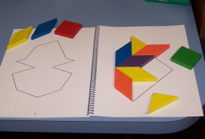 Toddlers should have a lot of visual spatial activities like puzzles, blocks, large balls, and balloon play. This is how children learn about their effect on the 3-dimensional environment that surrounds them.

Older children can be challenged with air hockey, ping pong, bicycle riding, tennis and any games involving balls and movement.

Dance, karate, gymnastics, playing musical instruments and age-level sports are some structured activities for children that are valuable to help develop eye hand coordination.
The link provided can be printed out and shared with your children. Have fun!